Services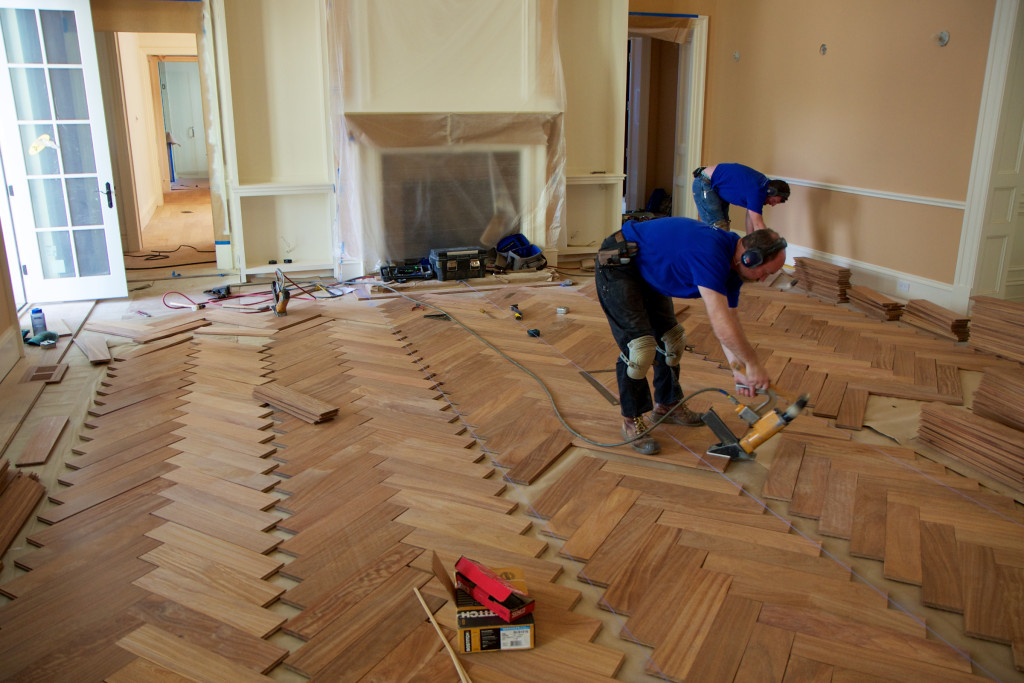 Installation
Russell Hardwood Floors offers the supply and installation of solid as well as engineered hardwood flooring. We use a variety of installation methods, depending on the requirements of the job. 
Here are the basic methods:
Nail-down method – flooring is nailed to 3/4″ minimum plywood or OSB or 2″x 6″ slat subflooring.
Floating method - used most frequently with engineered flooring in which boards are glued to each other but not to the substrate (concrete or plywood). A sound absorbing vapor barrier is installed under flooring for comfort and protection.
Combination - both methods may be used in certain circumstances over concrete slabs to offer a continuous appearance with other flooring, existing or new, in other rooms of your home.
Russell Hardwood Floors expertly installs both unfinished and prefinished flooring in a wide selection of wood species.  We offer a variety of finishes, including oil and water based.  We are happy to discuss all hardwood flooring options during an estimate at your home or business.
Green Building Projects
Wood products provided by Russell Hardwood Flooring are LEED and FSC certified and are CARB compliant. We use a dust containment system in all sanding services to minimize dust impact in addition to using of the finest low VOC finishes available. We offer both water and oil based finishes in our finishing and refinishing services.
Refinish
Russell Hardwood Floors has built it's reputation on the finest quality sand/finish and refinish/recoat services available using highest quality products and best quality workmanship due to over 70 years combined experience of our employees. Refinish work consists of sanding off all old worn finish and stain, returning flooring to it's unfinished condition and rebuilding a new, beautiful look with your choice of color and finest quality finish.
Repairs
We offer repairs to solid and engineered flooring damaged by fire, water, pet urine, or termites. We repair areas when fireplaces or floor furnace/vents or cabinets are removed or a new addition/remodel joins to existing flooring. We can also add new flooring to old flooring by weaving it into existing flooring where necessary or continuing the flow of existing flooring, creating a seamless flow of old and new flooring.  This service is usually combined with the refinish service to ensure proper color and finish match.
Stairs
We can supply, install and finish new stair treads and risers to most existing staircases using material to match or compliment surrounding floors and decor. We do not supply, install or finish railings, balusters or posts, new or existing.
Custom Inlays and Borders
We supply, install and finish custom borders and feature strips in a variety of beautiful and complimentary materials. We can also provide pre-manufactured inlays or medallions, installing and finishing them with the surrounding flooring.